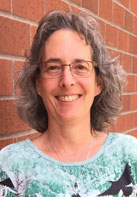 Lynne Mackey
Administrative Assistant
Lynne grew up in Indiana, and earned a B.S. (Indiana University), and an M.S. (Purdue University) both in computer science. In 1985, she moved to the Portland area to pursue her career in the high tech industry, and met her husband and co-worker, Tim Mackey. In 2007, she changed gears and earned an M.Ed. degree and began a teaching career at Canby High School teaching mathematics and special education classes that continued until the spring of 2015.
Lynne became a believer in Jesus Christ in 1985, and began attending Lake in 1999. During her time at Lake, she has volunteered on various projects including The Final Word and manuscript editing. Since 2014, she has taken on the responsibility of audio editing The Final Word radio broadcasts.
In the summer of 2015, Lynne was asked to join Lake's administrative staff. She is thrilled to be able to use her time to serve the Lord by assisting the various ministries at Lake. She has a passion for God's Word and loves her work on The Final Word. Her favorite Scripture verse is Romans 8:28 and has seen the Lord "work all things together for good" multiple times in her life.