Mission Celebration Month is February!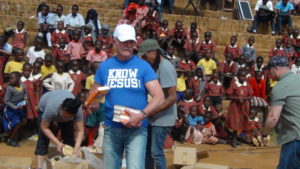 During Mission Celebration Month, the Mission Committee's hope is to present our congregation with a view of  actions we are taking showing how Lake Bible Church is actively engaging all the opportunities the Lord is providing us to breathe life and energy into the precious mission He has given us!
This February our Mission Celebration theme is "Trusting Jesus!" 
Four events during February have been planned which are intended to highlight how trusting lies at the heart of "Bringing People to Christ."  On Sunday, the 10th of February at 5:30 p.m. a presentation by Dan Sered, a Jews for Jesus Mission in Israel, will present his views of reaching the lost in Israel.  On the 16th of February at 10:00 a.m., a representative of Foreign Mission Foundation (FMF), will discuss, in the form of a Bible Study, reaching the lost in India. On Sunday, the 17th of February at 5:30 p.m. during a dinner, once again, representatives of Foreign Mission Foundation, will discuss reaching the Banjara Tribe of India.  The Banjara tribe extends over great areas of Asia and Europe and are what we know as "Gypsies".
Last but by no means least, is our Mission Celebration Potluck Dinner on Sunday, February 24th at 5:30 p.m.  Among several presentations our Oaxaca 2018 will give their report of their October 18 Mission to Oaxaca, then the Mission Committee will outline the magnificent work the Lord has accomplished through Lake Bible Church during 2018 and will discuss the specific Mission Initiatives for 2018 – 2019 that are planned and set forth the hopes we have for how our body can bring to fruition the entirety of our mission during 2019.
We sincerely pray this year all the Congregation attends our International Potluck so we can all rejoice together in knowing how God is providing us a banquet of  great work in Bringing People to Christ while He is Building us up in His faith, and providing avenues of endeavor through which we can send people out to proclaim His Truth and manifest His glory!
All together this will be a great month to revel in our Mission of Bringing People to Jesus!

Potlock Dish Assignments
Everyone is encouraged to attend the International Potluck and you are encouraged to participate by bringing a dish of your choosing. The following is meant only to be a suggestion for dishes to bring and you are free to bring any dish which you are excited to share with others.
Care Group
or Last Name
Origin of Dish to Prepare
Care Group Leaders: Jim & Olsie Andrews and Max & Lori Miller
Or, Last Names Beginning with A through F
Asia (Including: India, Korea, China, Philippines, Japan, Indonesia, Hawaii)
Care Group Leaders: Pete & Julie Oliver and Bob & Betty Hanington
Or, Last Names Beginning with G through L
Europe (Western European countries, Scandinavian countries, Russia)
Care Group Leaders: Ken & Kim Dixon & Kent Robinson
Or, Last Names Beginning with M through R
The Americas (North America, South America, or Central America)
Care Group Leaders: Brent & Marchelle Schafer
Or, Last Names Beginning with S through Z
The Mediterranean (Greece, Israel & Arab countries, Africa, Spain & Italy)