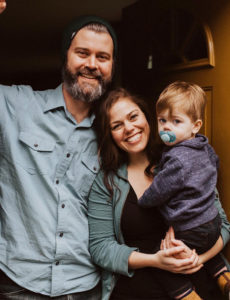 Asa grew up as an missionary kid in El Paso and Juarez, Mexico where he heard the Gospel of Jesus from his earliest memories. After seeing a Gospel presentation during a street drama, he became convinced of his sinful state and his desperate need for Christ.
After his family left the mission field, Asa's family moved to Tennessee where he went through Junior High and High School and received a call to the ministry which was confirmed by Northside Baptist Church in Murfreesboro, Tennessee. Upon graduating high school, Asa promptly attended Liberty University in Virginia where he studied theology.
After obtaining his bachelor of science in religion, Asa moved to Louisville, Kentucky to further his theological studies at The Southern Baptist Theological Seminary. During this time, he attended Sojourn Community Church where he served on staff and grew in his love for the local church. He continued at Sojourn for three and a half years after he graduated from Southern Baptist Theological Seminary with his Master of Divinity. It was during this time that Asa met and married his lovely wife, Krista—an RN who occasionally serves as Asa's personal nurse when he hilariously tries his hand at home improvement.
Asa served in the Family Pastor role at Northside Baptist Church in Indianapolis, Indiana, until he received a call to minister at Lake Bible Church. Asa and Krista currently reside in Portland, Oregon, with their son and two dogs as displaced fans of the Tennessee Titans and Saint Louis Cardinals.