Welcome, Guests
We are so glad you are with us today. If you are a fellow believer, our earnest hope is that you will be spiritually enriched and edified by your experience here today. And if you are not yet a disciple of our Lord Jesus Christ, our prayer is that today some influence here may draw you toward Christ.
Volunteers are at the Welcome Center to assist you with any needs or questions you may have.
Sermon - Jim Andrews, Pastor
True Worship and Hypocritical Humanitarianism
Word From the Pastor
No one is a true humanitarian who is not above all one who honors God.
All-Church Announcements
Resource Center

Worship CD's are now available in the Resource Center. "Greatly to be Praised", recorded by Steve West in 2000 and a Lake Worship Service recorded live in 2001 have been donated by Steve. They are free of charge but if you would like to make a donation of any amount the money will go to the Decons Fund.
Lake Bible Fellowship BBQ Lunch

Sunday, September 24th at 11:00 AM
Food, Fun, and Fellowship for our whole church family! We hope you will join us!
Adult Bible Fellowship
Sunday Classes
11:00 AM Classes
1 Peter, taught by Sheffield's and Davis's, in the Marriage Room (Room 232)
Ephesians, taught by Dan Wilcox in Room 152
I Corinthians, taught by Lucas Howard, in the College and Career Room (Room 243)
5:00 PM Class
Book of Proverbs, taught by Pastor Jim, in the Great Room (Room 238)
This Week at Lake
Sunday
Pastor Jim's Adult Bible Fellowship
Youth Group Sunday Extravaganza
Monday
"Fit2Serve" Women's Fitness Program
Tuesday
Heart to Heart Women's Bible Study
Midday Bible Study with John Dotson (Zoom)
Youth Group Student Bible Study
Wednesday
"Fit2Serve" Women's Fitness Program
College and Career Bible Study
Awana Children's Bible Program
Thursday
Women in the Word – Ladies Bible Study
Men's Bible Study
Friday
"Fit2Serve" Women's Fitness Program
Upcoming Events
September
24 – All Church Barbecue
October
1 – New Members Class
6 – Monthly Prayer Meeting
13 – Women's Fall Event
21 – Next Steps Seminar
28 – Youth Group Corn Maze Event
November
6 – Cooking with Friends Women's Event
19 – Youth Group Turkey Hunt Event
Adult Education
Midday Bible Study

Online (Zoom) study – Job, taught by John Dotson. Begins again September 12th. Every Tuesday at noon through Zoom. Contact John Dotson at johnd@lakebiblechurch.com for more information.
Children's Ministry
9:30 AM

Nursery
2's – Kindergarten Classes
Grades 1-5 attend Worship music during service with parents, then are dismissed to their class.
11:00 AM
Nursery, Kindergarten
2's Through Grade 5 Classes
Youth Ministry

Sunday Mornings at 11:00 AM
Sunday Extravaganza's on Sunday night from 6:00 to 8:00 PM
Guys and Ladies Bible Studies on Tuesday's from 6:00–8:00 PM
Upcoming Events
October 28th: Corn Maze
For details contact John Dotson at johnd@lakebiblechurch.com or 503.915.7577
College and Career Ministry
College & Career Bible Study

Wednesday Night Bible Study: 6:00 – 8:00 PM. Studying Genesis. College & Career Room #243
Please contact David Fielding at davidf@lakebiblechurch.com for more information.
Women's Ministry
"Order My Steps" Ladies' Night Out

An Evening of fun, fellowship, devotion, and dessert with speaker Laurie Sheffield.
October 13, 2023 | 7 PM | $10
Women's Bible Studies

Heart to Heart
New Study began September 12th. Romans 8, Learning and Living the Will of God by Pam Gillaspie. Tuesday Mornings at 10:00, $30. See details.
Women in the Word
New Study began September 14th. Revelation Apocalyptic Visions and Timeless Principles. Thursdays at 6:45 PM. Cost $20 for materials.
Neighborhood Bible Study
New study began April 15. First & Third Saturday every month, 5:00–7:30 PM. Dinner and Study in Psalms.
More Information
Contact Sharon Van Slyke at sharonv@lakebiblechurch.com for additional information.
Men's Ministry
Men's Bible Study

New study, Virtues of a Godly Good Man, began September 14th.
7:00 – 8:30 PM, Thursday Evenings. Meets in person and also on Zoom.
Contact John Dotson at johnd@lakebiblechurch.com for additional information.
Marriage Ministry
Marriage Moment

It can be difficult to pursue our spouse throughout the years of marriage. We must not think of marriage as the grand finale to our courtship! The chase should never end! Pursue your spouse! Remind them they are beautiful or handsome and the only one on earth for you! "Put on then, as God's chosen ones, holy and beloved, compassionate hearts, kindness, humility, meekness, and patience, bearing with one another and, if one has a complaint against another, forgiving each other; as the Lord has forgiven you, so you also must forgive." Colossians 3:12-13
Marriage Moment

Your spouse may not be your favorite person right now. We ALL have days where we annoy each other, or get on each other's nerves. Move toward each other when you don't "feel" like it. Look past the annoyances to the person you love. "Be angry and do not sin. Don't let the sun go down on your anger, and don't give the devil an opportunity." Ephesians 4:26
Giving Summary
Giving to Date
Weekly Budgeted Contributions
$21,180
Contributions Received
$13,188
Contribution Shortfall
-$7,992
Budgeted Contributions YTD
$232,980
Contributions Received YTD
$176,756
Contributions Shortfall YTD
-$56,224
Thank you for your faithfulness.
Ministry Spotlight
Thank You Coffee Crusaders
For Your Behind The Scenes Work!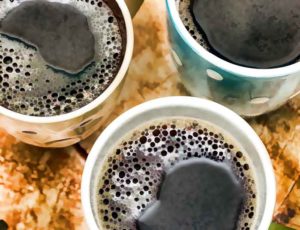 There are always lots of things "behind the curtain" that need to be done to keep any factory running. But unlike The Wizard of Oz, who made promises he couldn't keep, we have a small, stealthy troupe of caffeine-crusaders that creep into the church every week with water, teas, coffee, and creamers with the promise of setting up and plugging in so we can all enjoy Hot Coffee or Tea on Sunday morning! Maybe The Wizard wouldn't have been so cranky if he'd had his coffee ready and waiting for him too!
Thanks so much to Gary and Sandi Nelson for keeping this church and all of the caffeine and decaf lovers happy! When asked why they do this every week, their answer was simple, "It's an easy way to serve and we can see that it brings such joy!" Staying up late on Saturday night or arriving to church early on Sunday isn't always "easy" but it sure is appreciated! The Nelson's have a few helpers with Richard and Becky Vessey, but would love to add a few more crusaders to their team! If you've ever fancied yourself a "barista" or you're just good at following the instructions of some veteran coffee makers consider joining them once a month or so!/p>
Stay Connected
Update Contact Information
Has your email address changed recently? Have you just moved? Did you change jobs or cell phone numbers? We would like to update our records. Please send personal contact information to Stacy Olson (stacyo@lakebiblechurch.com) or call 503.699.9840
Prayer Ministry
Monthly Prayer Meeting
Join us 7:00 PM on the first Friday of the month in the Prayer Room (Room 153). Contact: Email Kent Robinson or phone 503.330.2056
Church Prayer Chain
To join the church prayer chain, contact the office at 503.699.9840, or email Stacy Olson at stacyo@lakebiblechurch.com.
Connect Online
Sermon Podcast

Available on iTunes and via our searchable Sermon Podcast Archive.
YouTube Channel

Video of recent sermons and a live feed of the 9 AM service can be found on Lake's YouTube Channel.
The Final Word Radio Program

KPDQ-FM 93.9 at 7 PM and 11:30 PM
TrueTalk AM-800 at 9 AM and 5:30 PM