Welcome, Guests
We are so glad you are with us today. If you are a fellow believer, our earnest hope is that you will be spiritually enriched and edified by your experience here today. And if you are not yet a disciple of our Lord Jesus Christ, our prayer is that today some influence here may draw you toward Christ.
Volunteers are at the Welcome Center to assist you with any needs or questions you may have.
Sermon - Jim Andrews, Pastor
There Arose a Division Because of Him
Word From the Pastor
Given the dysfunctional moral nature of humankind, ugly divisions in society are persistent, however mindless. Let us not be naïvely idealistic, but realistic about the way life is on this planet, always striving and praying that by God's grace and wisdom that we might regularly land in those spaces agreeable to Christ and the truth.
All-Church Announcements
Easter Weekend

Good Friday, April 7th
Join us for a Traditional Tenebrae Service
7:00 PM, in the Worship Center
Saturday, April 8th
Children's Easter Celebration – 10:00 AM
Register Sunday or in the church office
Easter Sunday – April 9th
9:30 AM Service, 11:00 AM Sunday School will not be meeting.
Adult Bible Fellowship
Sunday Classes
11:00 AM Classes
Nehemiah, taught by Sheffield's and Davis's, in the Marriage Room (Room 232)
Romans, taught by Dan Wilcox in Room 152
I Corinthians, taught by Lucas Howard, in the College and Career Room (Room 243)
5:00 PM Class
Book of Psalms, taught by Pastor Jim, in the Great Room (Room 238)
This Week at Lake
Sunday
Pastor Jim's Adult Bible Fellowship
Youth Group
Monday
"Fit2Serve" Women's Fitness Program
Tuesday
Heart to Heart – Women's Bible Study
Study of Job (on Zoom)
Student Bible Study
Wednesday
"Fit2Serve" Women's Fitness Program
College and Career Bible Study
Awana Children's Program
Thursday
Women in the Word Ladies Bible Study
Men's Bible Study "Meat For Men" Dinner
Friday
"Fit2Serve" Women's Fitness Program
Saturday
Ladies Neighborhood Bible Study (Meets 1st & 3rd Saturdays of each month.)
Upcoming Events
April
3 – Cooking With Friends "I'm stuffed."
6 – Women in the Word New Bible Study Begins
7 – Monthly Prayer Meeting
7 – Good Friday Tenebrae Service and Communion
8 – Children's Easter Celebration
9 – Easter Sunday
14–16 – Youth Boys and Girls Retreats
21–22 – 2023 Northwest Women's Summit
May
5–7 – Men's Retreat
21 – Mission Auction and Lunch
Adult Education
Mid-Day Bible Study

Online (Zoom) study of Job, taught by John Dotson on Tuesdays at noon.
Join us at noon on Zoom. The Zoom link is https://us02web.zoom.us/j/83291154849.
Children's Ministry
9:30 AM

Nursery
2's – Kindergarten Classes
Grades 1-5 attend Worship music during service with parents, then are dismissed to their class.
11:00 AM
Nursery, Kindergarten
2's Through Grade 5 Classes
Children's Easter Celebration

Saturday, April 8th at 10:00 AM
Lots of fun activities and hear about the first Easter. Ages pre-K to 5th grade. One adult per family is required to attend. Register Sunday mornings or in the church office.
For more information, contact Sharon Van Slyke at sharonv@lakebiblechurch.com
Vacation Bible School

Keepers of the Kingdom – July 17th–21st
Be a part of this great outreach! If you would like to volunteer, please contact Sharon Van Slyke.
Youth Ministry

Sunday Mornings at 11:00 AM
Sunday Evening Youth Group at 6:00 – 8:00 PM
Young Men and Young Women's Bible Studies, Tuesday's 6:00–8:00 PM
Upcoming Events
April 14-16th Boys and Girls Retreats
For details contact John Dotson or johnd@lakebiblechurch.com and 503.915.7577 or call/text Clara.
College and Career Ministry
College & Career Bible Study

Wednesday Night Bible Study: 6:00 – 8:00 PM. Studying Genesis. College & Career Room #243
Please contact David Fielding at davidf@lakebiblechurch.com for more information.
Women's Ministry
Cooking with Friends - I'm Stuffed

Monday April 3rd at 6:00 PM. $10
An evening for Women of cooking, sharing a meal & time in the Word. Register in the Narthex on Sunday or online. Contact Sharon Van Slyke, sharonv@lakebiblechurch.com, for any questions.
Women's Retreat CD's

Women's Retreat CD's from each of the four sessions are now available in the Resouce Center. CD's are $2.00 each
Women's Bible Studies

Sign up on Sundays in the Narthex or on the Lake Bible website.
Heart to Heart
1 Kings 12–22 The Kingdom Divided. Author John MacArthur, Cost $35. See details.
Women in the Word
New study begins April 6th, Pathway to Freedom, Alistair Begg. Cost $20. See details.
Neighborhood Bible Study
First & Third Saturday every month, 5:00–7:30 PM. Dinner and Study, Continuing in Hebrews.
More Information
Contact Sharon Van Slyke at sharonv@lakebiblechurch.com for additional information.
2023 NW Women's Summit

In All Things
Two day Women's Conference at Lake Bible – $40.00 April 21st, 7:00 to 9:00 PM – April 22nd, 9:00 AM to 3:45 PM Keynote speaker: Kathy Howard and multiple breakout sessions to choose from. Register on Sundays or online. Email Nancy Hall at wwomen@nwbaptist.org for more information.
Men's Ministry
Men's Bible Study

Began January 5th
Continuing with Knowing God. Author J. I. Packer. Cost $10
7:00 – 8:30 PM, Thursday Evenings. Meets in person and also on Zoom. Contact John Dotson at johnd@lakebiblechurch.com for additional information.
Marriage Ministry
Marriage Moment

It's really hard to have a good marriage if you're not spending any time with the person you're married to. Great marriages are built on great friendships. Spend time with each other and The Lord daily!
"All glory to God, who is able…to accomplish infinitely more than we might ask or think." Ephesians 3:20
Plan a date with your spouse and put it on the calendar this week.
Giving Summary
Giving to Date
Weekly Budgeted Contributions
$22,715
Contributions Received
$12,005
Contribution Shortfall
-$10,710
Budgeted Contributions YTD
$885,885
Contributions Received YTD
$760,017
Contributions Shortfall YTD
-$125,868
Thank you for your faithfulness.
Ministry Spotlight
Children's Easter Celebration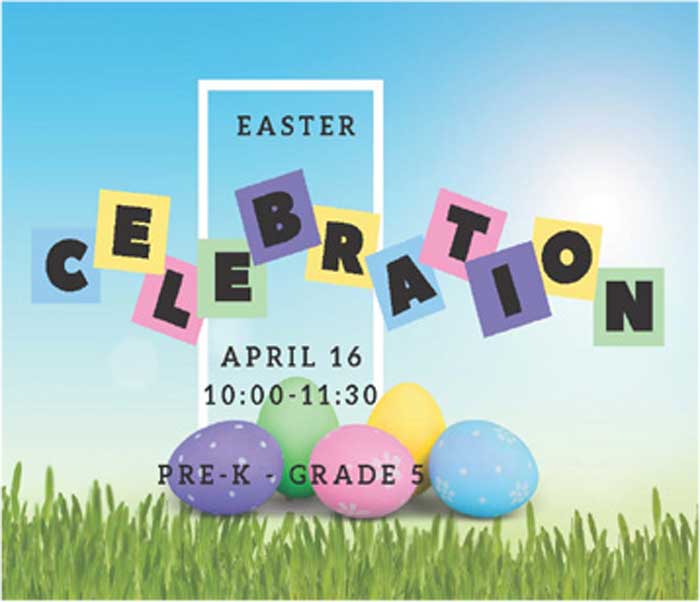 At Lake, our free children's Easter Celebration offers us the opportunity to share the story of Christ's final week before his crucifixion and resurrection, along with the gospel message, in a tangible and memorable way.
Children will make an edible empty tomb and an Easter tree with symbols and Scripture commemorating the story of what Jesus did for us on the cross.
They will hear the Easter story in a child friendly way and take home a book to remember Resurrection Day and the opportunity for new life in Christ.
We would love to have you bring your friends and family to this special event!
Saturday, April 8th from 10–11:30 AM in the Great Room for children PreK to 5th grade. One adult per family required.
Hope to see you there!
Stay Connected
Update Contact Information
Has your email address changed recently? Have you just moved? Did you change jobs or cell phone numbers? We would like to update our records. Please send personal contact information to Stacy Olson (stacyo@lakebiblechurch.com) or call 503.699.9840
Prayer Ministry
Monthly Prayer Meeting
Join us 7:00 PM on the first Friday of the month in the Prayer Room (Room 153). Contact: Email Kent Robinson or phone 503.330.2056
Church Prayer Chain
To join the church prayer chain, contact the office at 503.699.9840, or email Stacy Olson at stacyo@lakebiblechurch.com.
Connect Online
Sermon Podcast

Available on iTunes and via our searchable Sermon Podcast Archive.
YouTube Channel

Video of recent sermons and a live feed of the 9 AM service can be found on Lake YouTube Channel.
The Final Word Radio Program

KPDQ-FM 93.9 at 7 PM and 11:30 PM
TrueTalk AM-800 at 9 AM and 5:30 PM