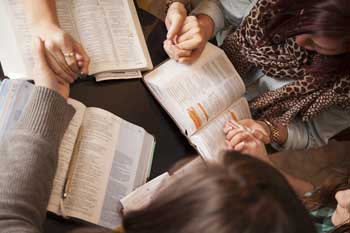 Women in the Word
Our evening Bible study is a gathering place for women of all ages, from all walks of life and various levels of understanding of God's Word. What we have in common is the curiosity and desire to know Jesus Christ better, and the Bible more fully. Join us in an environment that provides a foundation for learning, opportunites for growth, and an atmosphere enabling women to encourage each other more fully.
When: Thursday evenings, 7–9 PM
Cost: $20.00 per session for materials
Location: Lake Bible Church, Room 224
Childcare: Provided throughout the year
Registration
Register for a session and pay online for study materials. We use PayPal to securely process payments, but you do not need a PayPal account to make a payment. When you click "Pay Using PayPal," simply provide your credit and debit card information. If you prefer, you may register online and pay for study materials in person.
Already registered and need to add or pay for a bible study? Lookup your registration to make payment or get secure link to update registration.
Questions?
If you have any questions about a study, please contact the study leader:
Patty Berger: 503-590-4718, pmberger@hotmail.com
Session One (September 20th – December 6th)
God of Creation A Study of Genesis 1-11
Author: Jen Wilkin
In its first eleven chapters Genesis addresses important questions: Where did everything come from? Why are we here? Why is the world so broken? How can that brokenness be made right? God's Word declares that He is our source for understanding and the One to provide answers to life's questions.  In this inductive study we will cultivate a worshipful understanding of our Creator, explore Genesis as the place the redemptive story begin, and trace the themes of creation, fall, redemption, and restoration.
Session Two (January 10th – February 28th)
No Other God's The Unrivaled Pursuit of Christ
Author: Kelly Minter
Most often we think of idols as something archaic from days long past.  In actuality, God's people still struggle with idolatry every day.  Our idols may wear different faces today but they are real nonetheless – work, money, power, fame. Unless we are careful and aware we can find ourselves serving these gods above the one true God and miss the fullness of knowing and following Him.  This study will help us identify the gods we may be unknowingly serving and the lies they tell us.  Freedom is found only in Christ – discover what Jesus can do that no other gods can.
Session Three (March 14th – May 23rd)
Live Deeply A Study in the Parables of Jesus
Author: Lenya Heitzig & Penny Rose
Ever wondered what Jesus was talking about while reading some of His parables? You're not alone, even His disciples grappled with clearly understanding what He was saying.  In this study we'll dig deeper into the meaning of each and develop a closer walk with Christ as we gain a clearer understanding of these and other truths in the Bible.
Session Four (June 6th – August 15th)
An Unexplainable Life Recovering the Wonder and Devotion of the Early Church

Author:  Erica Wiggenhorn
The thought is intriguing isn't it, living an unexplainable life. The book of Acts is full of events and occurrences that truly are unexplainable apart from the person and work of God.  As we open the pages of these first twelve chapters we will see what life can be when lived solely for the Lord, sold out for Him. Christ's mission became a reality in the lives of His followers and you are invited to become part of it.  Join us for this verse by verse study of Acts 1-12.