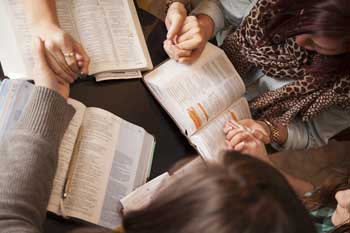 Women in the Word
Our evening Bible study is a gathering place for women of all ages, from all walks of life and various levels of understanding of God's Word. What we have in common is the curiosity and desire to know Jesus Christ better, and the Bible more fully. Join us in an environment that provides a foundation for learning, opportunites for growth, and an atmosphere enabling women to encourage each other more fully.
When: Thursday evenings, 7–9 pm
Cost: $20.00 per session for materials
Location: Lake Bible Church, Room 224
Childcare: Provided throughout the year
Registration
Register for a session and pay online for study materials. We use PayPal to securely process payments, but you do not need a PayPal account to make a payment. When you click "Pay Using PayPal," simply provide your credit and debit card information. If you prefer, you may register online and pay for study materials in person.
Already registered and need to add or pay for a bible study? Lookup your registration to make payment or get secure link to update registration.
Questions?
If you have any questions about a study, please contact the study leader:
Patty Berger: 503-590-4718, pmberger@hotmail.com
Session One (September 21st – November 16th)

His Last Words
What Jesus Taught and Prayed In His Final Hours
Author: Kim Erickson
We find in John 13-17 Jesus' last words to His disciples.  In His last days they revealed what mattered most and they are just as valuable now as they were then.  This inductive study will allow us to draw close to the heart of Jesus and experience the love of God.  His Word will change us, inspire us, and enable us to spread the gospel.  Join us.
Session Two (January 11th – March 8th)

All Things New
A Study on 2 Corinthians
Author: Kelly Minter
Much like today, the city of ancient Corinth was a melting ot of cultural experiences for everyone to explore. While often full of excitement and adventure it also led to spiritual depravity, leading many away from God and His ways.  Paul addresses this very personal letter to the church in Corinth with a desire that they hold to truth, turn from false teaching and treasure their relationship with God Himself.  It was as timely in his day as it is in ours.
Session Three (April 5th – May 17th)

Selfless Living In a Selfie World
Author: Pam Gillaspie
"You're entitled! It's all about you!" Our world and culture preaches that mindset loud and clear, wanting us to believe that everything is 'all about me'.  Jesus, however, calls us to something different.  Selfless living.  He lived it out in everything He did, coming not to "be served, but to serve, and to give His life a ransom for many."  Selflessness. We'll look at the lives of Jesus John the Baptist, Isaiah, and others as we do an inductive study of God's truths and learn how to live a Christ-centered life in a self-centered world.
Session Four (June 14th – August 2nd)

Tell Someone
You Can Share the Good News
Author:  Greg Laurie
Ever feel inadequate when it comes to sharing your faith? Jesus said, "Go into all the world and preach the Good News to everyone" but is it really that easy?  The gospel isn't a formula, program, or sales pitch.  It's simply sharing two stories:  yours and Jesus'.  You can do this!  Come be encouraged and better equipped to share the Good News.