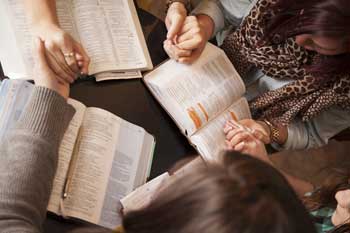 Women in the Word
Our evening Bible study is a gathering place for women of all ages, from all walks of life and various levels of understanding of God's Word. What we have in common is the curiosity and desire to know Jesus Christ better, and the Bible more fully. Join us in an environment that provides a foundation for learning, opportunites for growth, and an atmosphere enabling women to encourage each other more fully.
When: Thursday evenings, 7–9 pm
Cost: $20.00 per session for materials
Location: Lake Bible Church, Room 224
Childcare: Provided throughout the year
Registration
Register for a session and pay online for study materials. We use PayPal to securely process payments, but you do not need a PayPal account to make a payment. When you click "Pay Using PayPal," simply provide your credit and debit card information. If you prefer, you may register online and pay for study materials in person.
Already registered and need to add or pay for a bible study? Lookup your registration to make payment or get secure link to update registration.
Questions?
If you have any questions about a study, please contact the study leader:
Patty Berger: 503-590-4718, pmberger@hotmail.com
Session One (September 15th – December 8th)

Becoming a Woman Whose God Is Enough
Author: Cynthia Heald
We all want genuine contentment but so few seem to find it. Perhaps it's partly due to the fact we don't know our God nearly well enough. This study reminds us that He wants to bless us with His fullness and teach us to depend on Him completely. We will learn the importance of  turning away from things of the world to the Lord Himself, from selfishness to humility, from unbelief to a deeper trust and walk with God. No matter where you are in life, God is ready to meet you there and reveal Himself to you so that you might indeed, be a woman whose God is enough.
Session Two (January 12th – March 16th)

Lamb of God
Author: Nancy Guthrie
"For if you believed Moses, you would believe me; for he wrote of me." (John 5:46)  Christ's words are a wonderful introduction to this study where we will see the many ways Moses spoke of Jesus in the books of Exodus, Leviticus, Numbers, and Deuteronomy. Gain new insight as we study the story of Israel's deliverance and journey and a greater understanding of Jesus as the fulfillment of Old Testament Scripture. The Bible's story, from beginning to end, is the story of the Lamb – the Lamb of God who takes away the sin of the world.
Session Three (April 6th – May 18th)

The Armor of God
Author: Priscilla Shirer
The Armor of God is more than just a biblical description of the believer's inventory. It is an action plan for putting on your armor and developing a personalized strategy so you can stand strong in the midst of an invisible spiritual war that rages around you every day. As we study the Word of God you will be reminded of the importance of protecting yourself from head to foot so you can have victory in Christ rather than failure in the midst of the enemy's strategic plan to wreak havoc on your life. Learn how to put on your armor and "be strong in the Lord and in the strength of His might." Ephesians 6:10
Session Four (June 8th – August 3rd)

1 Peter – A Living Hope In Christ
Author:  Jen Wilkin
Peter, a man who knew Jesus and witnessed his life, an imperfect man with a growing faith, challenges us to look beyond today, beyond current circumstances to a future inheritance. As we study 1 Peter, we will see him share his own concerns about big picture issues for the early believers, reminding them of the living hope they have in Christ, a hope that is ours as well!