Building people up in Christ

Sending people out for Christ

To bring people to Christ

The Mission of Lake Bible Church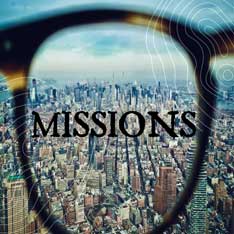 As a people of Jesus Christ, we rejoice in our mission. We find real joy in, and thrive on, The Word of our Lord. We are diligent to build others up through His Word, and this builds our body and glorifies our Lord! We also absolutely rejoice in sending others out from among our body to glorify Jesus.  We rejoice when the Lord provides through gifts and opportunities for us in the body to bring people into a loving and eternal relationship with our Lord and Savior!
Lakes seeks to extend the Love and Lordship of Jesus Christ around the world. Lake has a desire to invest our entire congregation in locally and globally opportunities to glorify the name of Jesus Christ.
Local Missions
Our "Jerusalem" is our local community. In order to be an effective partner with our community, we work through a variety of local outreaches to build people up in Christ. Some of our local mission partners include: Union Gospel Mission, Northwest Bible Training Center, and Angel Tree Ministries.
As a church, we express our mission in actions to be in and for our local community by hosting: Awana, Vacation Bible School, Community Easter Egg Hunt, the Angel Tree Ministry and our Christmas presentation, "The Journey to Bethlehem". In each of our efforts to minister to our community, we are involved in reaching out to build, send, and bring people, whether children or adults, to Jesus Christ.
International Outreaches
We have mission representatives serving around the globe from Asia to Africa. Lake supports missionaries in India, Nepal, Mexico, South America, the Caribbean, Ireland, Uganda and send short-term mission teams to Oaxaca, Mexico and Masaka, Uganda and wherever the Lord may lead us.
Complete List of Mission Outreaches
Mission Celebration
The 2022-2023 Mission Celebration theme is "Preparing For Jesus."
The Mission Committee's hope is to present the congregation of Lake with a view of the missions we are actively engaging with and how the Lord is providing.