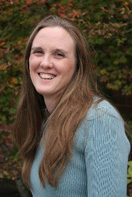 Katie Hall
Assistant Director of Children's Ministries
Katie grew up along the beautiful Hood Canal in Washington State and still enjoys visiting her parents in Hoodsport. Her family imparted a strong Christian upbringing along with a love of working with children. She set off for Oregon in 1992 to attend Western Baptist College (now Corban University) in Salem. There she received her BS in Elementary Education. She taught 2nd and 3rd grade at Carus Elementary and also in various short and long term substitute teaching positions in the public schools. Later she served as a two's teacher in Lake's weekday preschool program.
Katie's connections with Lake Bible Church began through her college friendship with Melinda Smith. In 1995 she began attending Lake and later became Melinda's assistant in Children's Ministries. That position morphed into assisting Melinda's husband Joel when he became Lake's Children's Pastor. Katie enjoys keeping all the details and materials of Children's Ministries organized including curriculum and supplies, as well as organizing events such as the annual Easter Egg Hunt and Vacation Bible School.
Through the Lord's gracious providence she met Jon online and they were married in 2010. God blessed them with their daughter Lydia in 2012. Katie has a passion for imparting her love of God and His Word to children as well as equipping parents to better spiritually nurture their own families.