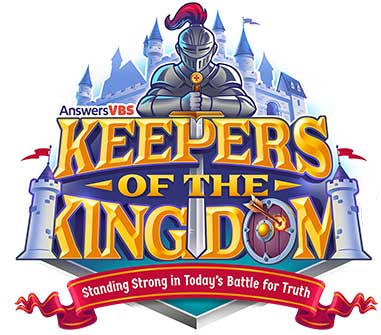 Be strong in the Lord and in the strength of his might.Ephesians 6:10
Vacation Bible School is Coming!
July 17–21, 2023
Lads and lassies, the Keepers of the Kingdom is coming!
Kids will learn how they can be part of God's kingdom through salvation in his Son and will be equipped with His armor to become Keepers of the Kingdom who stand for God's truth and ways. Put on your helmet, strap on your breastplate, and lace up those shoes and get ready to stand tall and defend God's kingdom as only knights of the realm can do. Whether you're walking through the battlefield or riding your trusty steed join us as our troupes gather on the field of games, visit the melodic music hall, storm the tables of science and crafts, join together for Bible Truths taught in hands-on ways and, lest we forget, seek additional strength for the battle by devouring delicious vittles, treats, and eats.
In-person registration begins April 10 for ages four years throug Grade 6. Those attending the children's April 8th Easter Celebration (ages 4 years through Grade 5) can register during the event itself. Cost is $35 per child.
Registration for 2023 Is Now Closed We are currently at capacity and will be unable to accept additional registrations at this time. Thank you for your understanding.