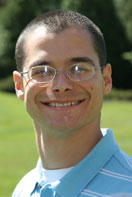 David Fielding
Director of Connections
David was born to Glen and Marianne Fielding in Salem, Oregon in 1981. He spent most of his childhood living with his dad and step-mom Jeanne in Salem, and visiting his mother every weekend in the Portland metro area.
Early on David sensed that there was much suffering being experienced on the outside of his South Salem suburban environment. While all three of his parents were highly principled and moral people, faith in Christ was not a reality in his day to day home. David turned to himself to understand how to reach out to those he felt he needed to help. Tenacity mixed with pain, anger, and ignorance lead him to run away at fifteen to the streets he felt so compelled to affect. What he learned was that sin can never be conquered by a sinner. He had chosen a path in which helping another was no longer on his mind at all; he simply was determined to become a thug, and he succeeded.
By the time he was eighteen, he had a daughter on the way with a women whom he barely knew and he was in county jail facing years in prison for the robbery of a drug dealer. That is where he met the only One who has truly conquered sin; Jesus Christ. The next ten years and ten months for David could be likened to a seminary of hard knocks and radical obedience, which was experienced within the Department of Corrections. During that time he not only developed a relationship with Jesus Christ, but he reconciled with his parents and began to establish a viable relationship with his daughter Mya; whom his mother Marianne was raising and bringing to Lake Bible Church regularly.
Upon his release he began living with his mom and daughter and attending Lake. He soon obtained a job from the owner of a dry cleaner in downtown Portland who heard his testimony at Lake. After about ten months of living with Mya day to day she went to live with her mom. There is a lot of healing that still needs to take place with their relationship.
David started volunteering with the youth at Lake in May of 2011 and was hired as a high school youth director in January of 2012. His desire to know the Lord and to see the youth build their relationship with Christ is a passion in his life which burns brightly.
"No matter where you're from or where you find yourself, be it the suburbs, the inner city, or the prison house, there is only One who can make you whole, and His name is Jesus Christ."